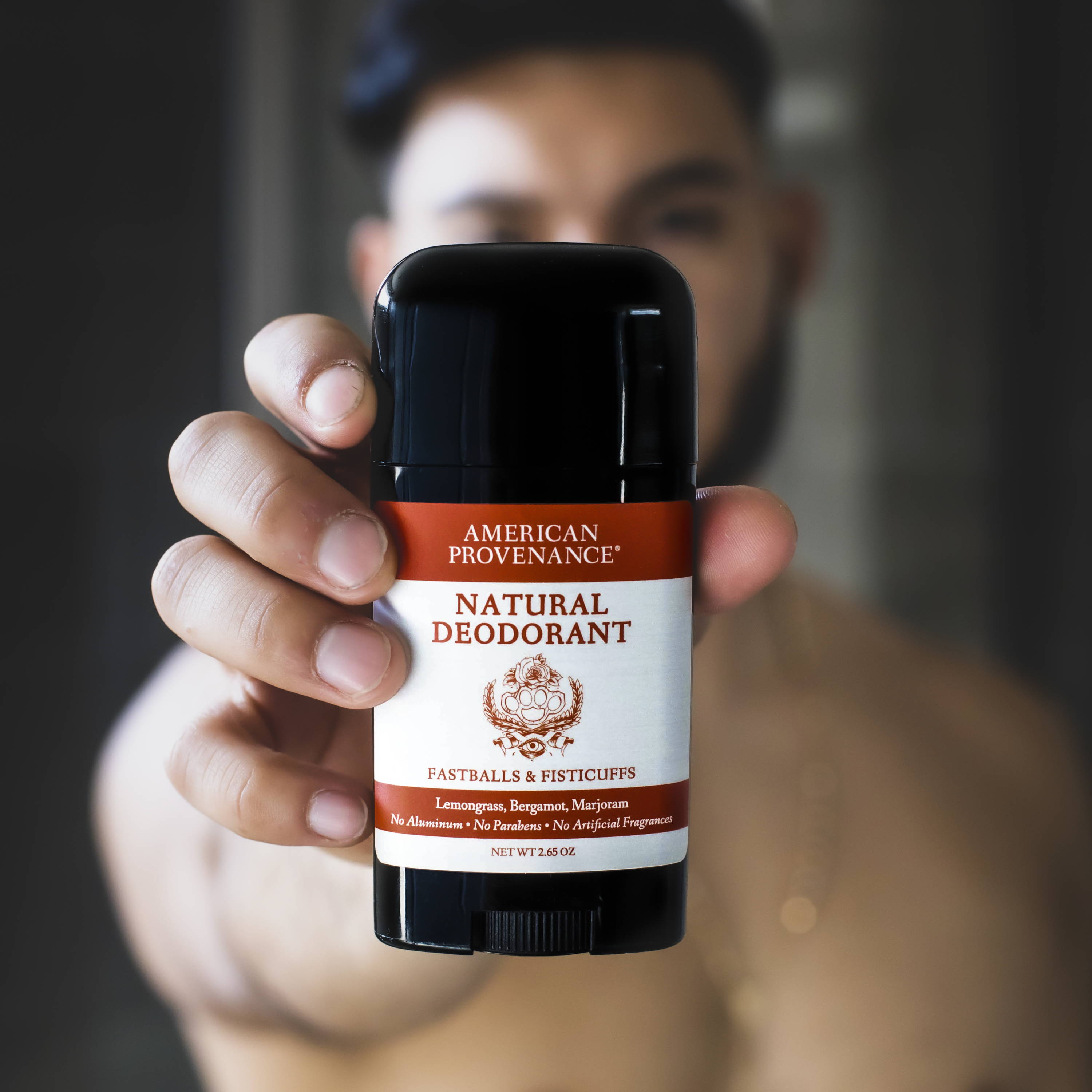 Now is the perfect time to try American Provenance. Join the thousands of people across the USA who've tried–and fallen in love with–American Provenance.
For a limited time, get a FREE full-sized, Natural Deodorant that actually works–
just pay shipping!
Handmade at our production facility in southern Wisconsin, our all-natural, aluminum-free deodorant can stand up to the heat of summer or the stress of the boardroom.
ABOUT AP NATURAL DEODORANT
Natural Deodorant that is actually natural
•Diamonds & Daggers (rose, bergamot, jasmine)
•Fastballs & Fisticuffs (lemongrass, bergamot, marjoram)
•Firepits & Flannels (wintergreen, fir, cedar)
•Grapefruit
•Horseshoes & Hand Grenades (ylang ylang, bergamot, clove)
•Lavender
•Lemongrass
•Patchouli
•Pinups & Paramours (coriander, tangerine, mandarin)
•Rosaries & Revolvers (geranium, bergamot, lavender)
•Shotguns & Shenanigans (peppermint, cypress, eucalyptus)
•Spearmint
•Unscented
•Sensitive Skin Unscented
HARDWORKING DEODORANT FORMULATED
BY A FORMER TEACHER
American Provenance was founded by former middle school science teacher, Kyle LaFond. The company originated from concern over the questionable ingredients found in popular name-brand cosmetic products used by his students. Inspired by the Do-It-Yourself movement, he created a personal care project in which he showed his students how to make their own body spray, deodorant, shave and hair products, and lip balm – all without using harsh chemicals. After several years of experiments and improvements, he decided to launch American Provenance from an updated machine shed on his fourth generation family farm.
We hold ourselves to a high standard. Our operations are transparent. We don't rely on expensive packaging, misleading advertising, or fine print. Products are mixed, poured, capped and labeled by hand to ensure both quality and consistency. Additionally, all of our products are free of metals, petrochemicals, sulfates, parabens, phthalates, artificial ingredients, artificial colors, artificial fragrances and preservatives and are always 100% cruelty free.
Free shipping and free returns means you can purchase with confidence. American Provenance offers fast shipping and world-class customer service. We strive to make every experience a great one. If you have any problems with an American Provenance or AP Botanics product, don't hesitate to reach out. We're here for you.
Paul B - December 19, 2019
"Great product, works really well, I'll never go back to the stuff at the store, 100% satisfied"
Andrew G - December 16, 2019
"It has taken years to find a legitimate natural deodorant. Could not be happier with endurance of these deodorants. I push deodorant to the limits and American Providence hasn't let me down. The scents are incredible and never overpower."
Emily A - November 8, 2019
"Have been using the deodorant for years now, and love it! My favorite scents are Pinups & Paramours and Virtues & Vices. I recently tried the sensitive skin and I'm happy to report it works just as well! I workout hard and sweat a lot- and the deodorant never fails me!"